Description
customizable output parameters
robust design
output power: up to 150 W
pulse energy: up to 1000 uJ
minimum pulse duration: up to 500 fs … 2 ps
pulse duration automatically adjustable
pulse to pulse switchable pulse duration
repetition rate: 100 kHz (higher repetition rates up to 1 MHz possible)
wavelength: 1030 nm, 515 nm, or 343 nm (with SHG, UV option)
beam quality: M2 < 1.4
energy stability up to < 3 % RMS
power stability up to < 1 % RMS
customizable network interface
The VaryDisk Series is highly customizable; parameters may change and are subject to detailed discussion with customer at the time of purchase; parameters given here are typcial realizations for the specific setup; depending on the choice of parameters, the laser system qualifies as industrial, scientific or prototype system;
SCHEMATIC DESIGN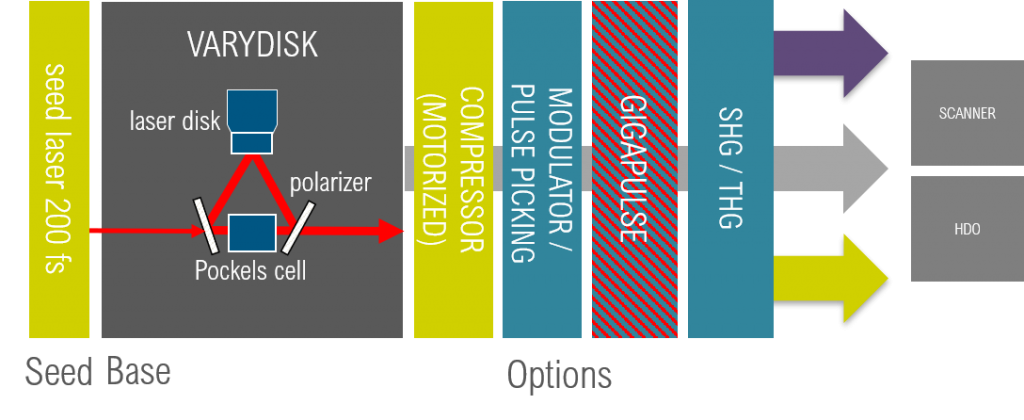 OPTIONS
We offer different options along with the base versions of the VaryDisk system in order to increase the output power (power upgrade 240 W) and/or to allow additional operating modes along with the generation of different pulse characteristics, e.g. different choices of pulse durations, wavelength, or even the simultaneous generation of pulses with different pulse characteristics in one operation mode.  Some of the available options are listed below. Please consult our team for possible combination choices and further information.
motorized compressor (MC) for an adjustable pulse duration adjustable 2 ps … 500 fs
shorter pulse durations < 350 fs (even shorter upon request: FEMTO+)
multiple seed lasers (e.g. fs, ps, ns) for mixed pulse trains (MPT)
higher repetition rates of up to 1 MHz
pulse picker (PP-6, PP-9, PP-12)
active stabilizer (RMS+) for improved RMS
high speed warm up routine (HS)
customizable network Interface
515 nm
APPLICATIONS
The extremely short pulse durations in the range of a few hundred femtoseconds allow material processing with almost complete evaporation of the material. Compared to picosecond pulses, the higher peak power densities allow a flexible input-coupling of the radiation into various types of material. Furthermore, high ablation efficiency can be obtained and the thermal impact on the material further minimized. Femtosecond material processing is particularly suited for drilling and precision ablation of glass.
Application examples, showing the capabilities of the VaryDisk laser system, were demonstrated in our application lab. Please consult D+G for further information.for further information.
DIMENSIONS / WEIGHT
All data given here are approximate, since nearly every laser is unique with respect to our customers requests (even the specifications given here):
laser head approx. 200 kg, (80 x 110 x 45) cm3 (without optional modules)
rack approx. 200 kg, (100 … 180 x 80 x 56) cm3
laser head / rack connection: 4m
additional chiller might be required with up to 250 kg, (60 x 58 x 155)  cm3
(depending on output power and repetition rate)
OPERATING CONDITIONS
power supply 3 phases 380 V, 50 Hz + N + ground, CEE 32 A plug
power consumption < 4 kW … 6 kW
water connection barbed fittings for tubing 13 mm or 16 mm inner diameter
water flow  15 – 25 l/min @ 12 °C – 25 °C
water quality filtered 80 μm recommended, low chlorine concentration (< 200 mg/l)
20 – 25°C operating temperature, low humidity